When we want to take a picture, Juan Pablo proudly stands behind the counter of his bakery in Medellin, Colombia. "Like this?" he asks posing and laughs. It's not that easy to bring the passionate baker with his baked goods and the oriental-looking bakery to an expressive photo. When I look at the results later, I am almost disappointed – somehow this pictrue does not capture reality adequately.
But wait, I have to start all over again, how come I'm standing here in Medellin with a baker who wanted to become a doctor and take pictures of him?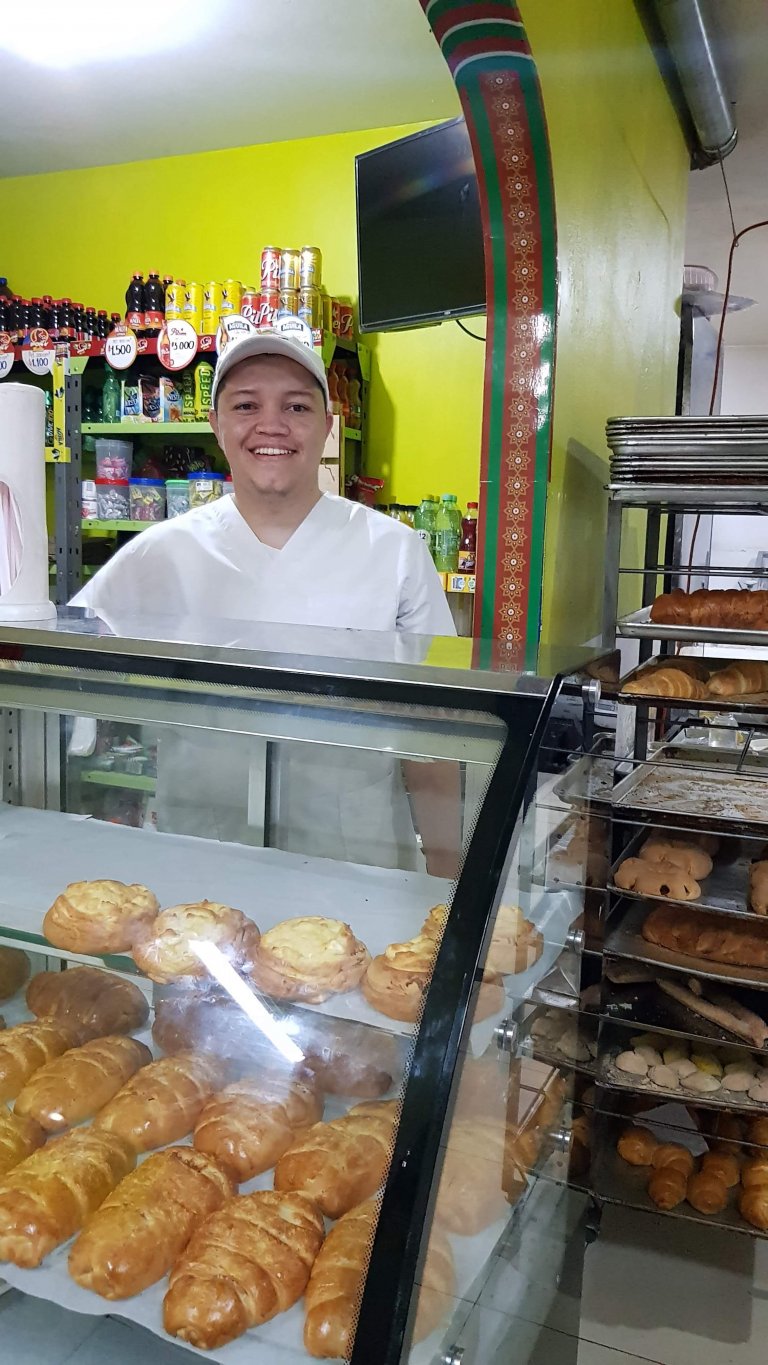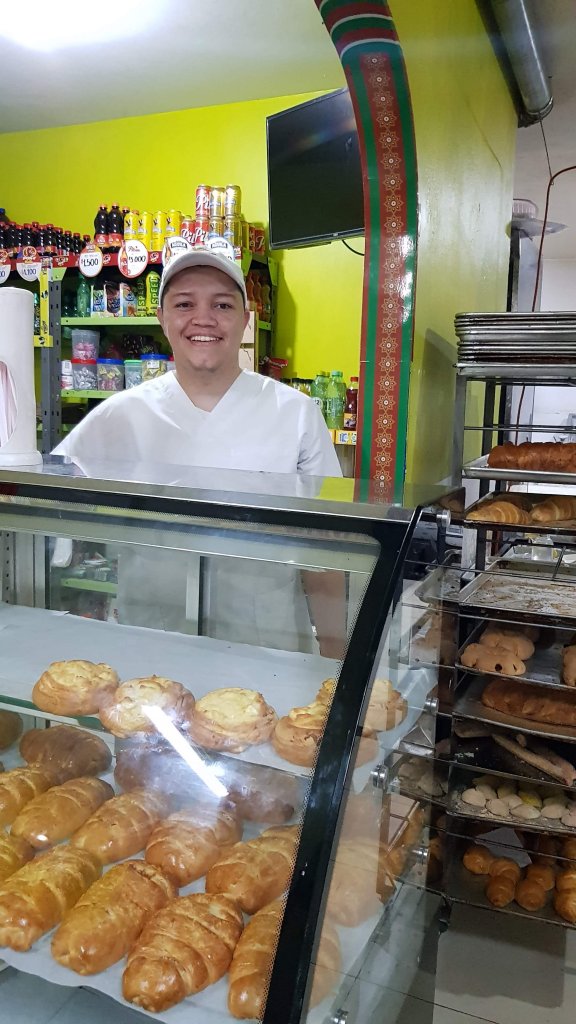 During my research on microcredits I came across the website Kiva.org[1], where people can directly give other people a loan (starting at 25 US dollars). Whoever gives a loan can find out about the borrower, his plans and ideas, but also about the risk of not getting the loan back. But of course the loans are not transferred directly from the lender to the borrower, in between there is an organization that mediates the loan. In the case of Colombia, and in particular Medellin, Interactuar is the largest lender. Interactuar organises credits given through the page kiva.org, but also lends other funds, a complicated system. Through this research, I came across Andres Felipe Ramirez Moncada of Interactuar, who put me in contact with Juan. And who exactly is Juan again?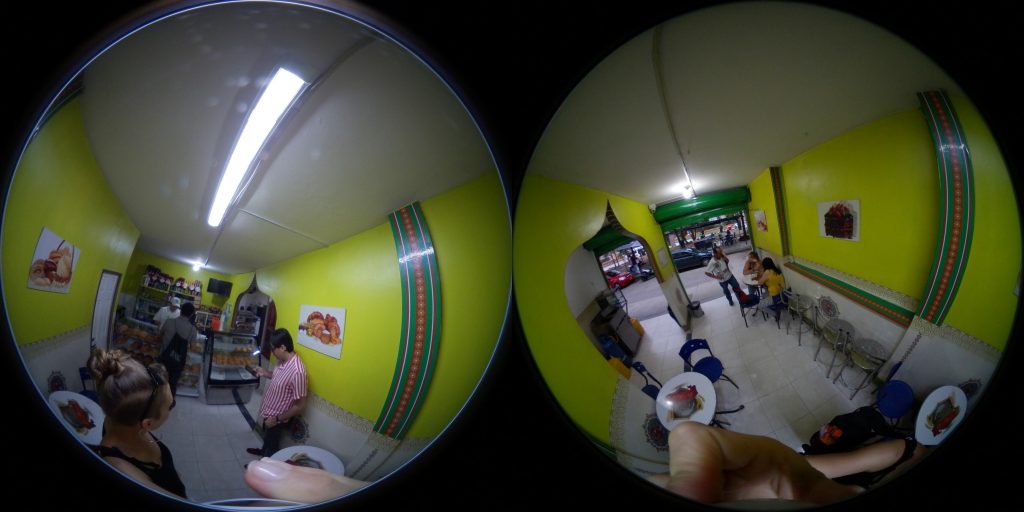 Juan is in his mid-thirties, has no children, but his own bakery, a great success. But the reality, Juan's reality, looks like this: As a young man he wanted to study medicine and become a doctor. But that's not so easy in Colombia, there are only a few public universities and the private ones are expensive. Juan's family couldn't afford that. So he first worked – because there is no dual education system in Colombia like in Germany, where you partly go to school and partly work in a company and get some money for it.
At some point, however, Juan no longer just wanted to be employed as an unskilled worker. He wanted to start his own business and have his own bakery. So he started to bake cookies in his home kitchen, smuggled them into the company and sold them to his colleagues. They were so enthusiastic that the orders could soon no longer be handled with the normal oven. And so Juan turned to the microcredit organisation Interactuar and took the courageous step of becoming a baker. To do so, he first attended courses that Interactuar offered and that he paid for himself. "I learned everything there in various courses. Baking bread and rolls, making cakes and biscuits, but also writing bills and the whole bookkeeping. I could do almost nothing before, but the courses were very good and not so expensive," says the entrepreneur. For three years, he attended various courses every now and then until he was finally able to open his first bakery. For this he applied for a loan from Interactuar, which was approved. Today he has moved to this new location with the oriental decoration and has opened another bakery, in these two shops he employs a total of five people.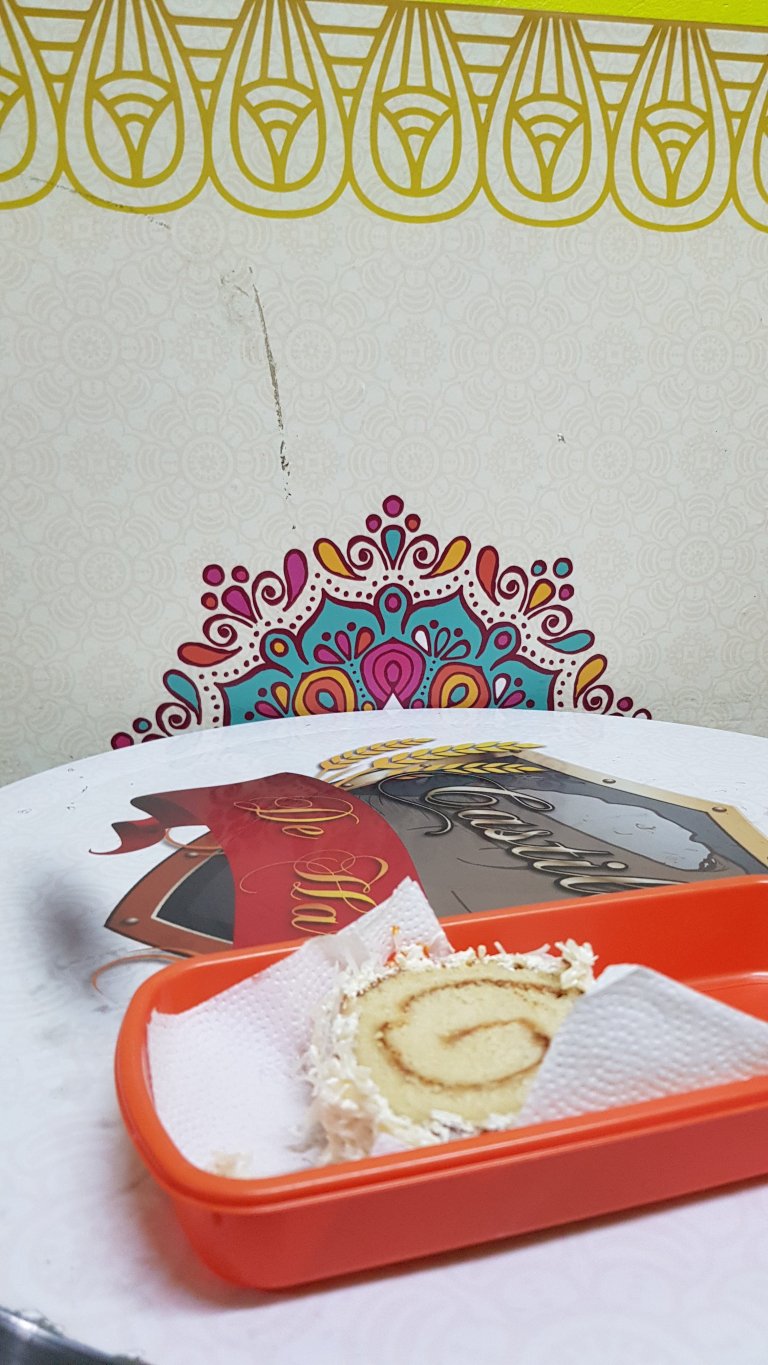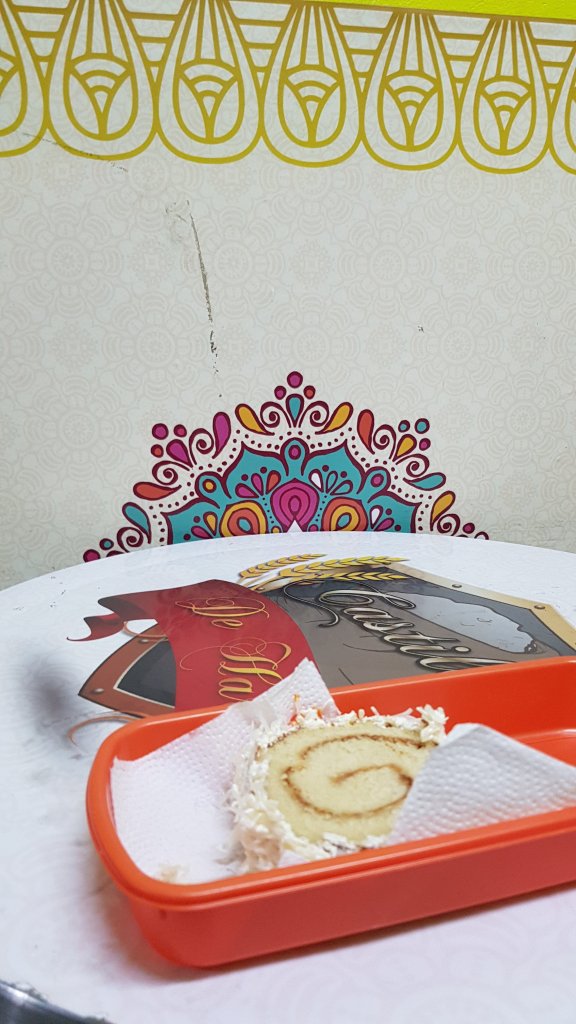 Now, of course, we are curious and want to try his favourite pastry. "So I recommend the biscuit roll, of which I am particularly proud. And also the bunuelos, which are corn cheese balls, a typical pastry here in Colombia."
While we enjoy the delicacies, we want to know what he plans next, what he is dreaming of. "I would love to travel to different countries and learn everywhere how to bake bread there. In Germany you have completely different bread from the one we have, to learn more about that would be of great interest for me. But probably I will never be able to afford it, even if I can live well with the money I earn from the bakery and even support my mother. Besides, I can't take any time off, I'm at the bakery every day. But I also have another dream: to have my own castle one day – a castle made of flour, my Castillo de harina". Then he shows us his great smile again and it's very clear: He's gonna build this castle. We will stay in touch and hopefully one day we can visit the baker Juan in his castle.

---
[1] http://www.interactuar.org.co/en